Now Open
We are very excited to welcome you back to the Museum.
Check the website for updates often.
Timed tickets are now available!
---
Visitor Guidelines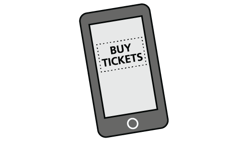 Buy Your Tickets Online
All visitors must purchase a timed entry ticket online before arriving at the Museum.
The Museum is limiting visitor capacity, so buying in advance will ensure your timely entry.
Museum Members and Connections members will need to reserve a timed entry ticket in advance as well.
Library, ASTC, Microsoft Prime or other passes are in-person only. You will be admitted at the first available time.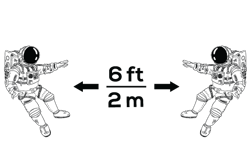 Physical Distancing
Please maintain a minimum distance of six feet (2m) from those outside your group.
6ft spacing markers will be on the ground in the screening line, ticketing lines and throughout the galleries for easy reminders.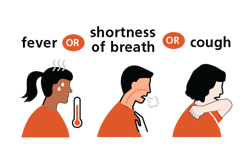 Health Screening
Upon entry, all guests will undergo a brief, contactless health screening consisting of a few questions about COVID-19 symptoms, which may include a temperature check.
Please follow State guidelines on travel (linked here) before you visit
No information will be kept or recorded. Visitors may opt-in to provide their personal information for contact tracing purposes, but it's not required.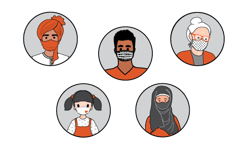 Face Coverings Required (age 5 and up)
Face coverings are required for anyone entering the Museum. Bandanas, gaitors/buffs and face shields are not permitted--unless also worn with an approved face covering on top. If you do not have a face covering, the Museum will provide one for you. Please see our Visitor Disclaimer for clarification.
If a visitor or member of your group does not wear one, they will not be allowed in the Museum and will be asked to visit another time. More information about face coverings can be found here: coronavirus.wa.gov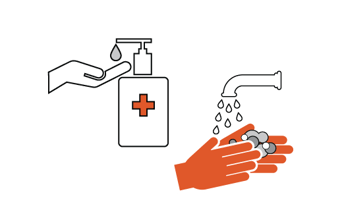 Use Hand Sanitizer Stations
and Wash Hands Frequently
We have placed additional hand sanitizing stations throughout the Museum for your use. Please use them and the hand washing stations in our public restrooms.
Protect Our Most Vulnerable
We are eager to see everyone again, but those in high-risk populations (defined as older adults and people of all ages with underlying medical conditions) may want to consider visiting us at a later date after the CDC provides such guidance. For a complete description of high-risk populations, please visit: https://coronavirus.wa.gov
Feeling Sick? Stay Home!
If you are not feeling well, please enjoy The Museum of Flight at Home and plan to visit another day.
---
What to Expect When You Visit
We're Ready for You
The Museum staff have been trained in new procedures to ensure the safest and most comfortable visitor experience, and undergo daily health screenings upon arriving at the Museum.
Time Your Arrival
Plan to arrive at the Museum close to the entry time on your ticket. This will reduce lines and crowding at the entrance.
Single Point of Entry
Enter the Museum through the East main entrance. See Map.
We ask that you please follow guidance for our new one-way paths and queuing areas.
Some Things Are Closed
Please note that some areas are closed for safety, this may include indoor and outdoor experiences.
Temporary closures include: Tower Exhibit, Great Gallery Cockpits, Space Shuttle Trainer - Crew Compartment & Rear Theater, Aviation Pavilion Kidport, Pavilion Café, Simulators (i360, 4DX and Spacequest VR) and the Alaska Airlines Aerospace Education Center.
List of Aircraft Closures:
Concorde and 727
Aviation Pavilion aircraft open at 11:00 AM (one hour later than Museum)
Additional Cleaning
We have increased our already aggressive cleaning and disinfection procedures, with a particular focus on frequent cleaning of all high-touch surfaces.
Modified Exhibit Flow
Most exhibits now follow a specific one-way flow and include floor markings to aid with social distancing.
Take The Stairs If You Can
Stairs offer open spaces and no buttons to push! Elevators are reserved for those who need them. Once inside the elevator, please limit to 2 persons in an elevator at any one time, except for those in a family or social group, and please stand as far apart as possible from others.
Have questions? Please contact us:
info@museumofflight.org | 206-764-5700